Home Historical Research POW Escape Reports Contact External Links Terms and Conditions Privacy Policy


La Frenaye, Seine Maritime, August 7, 1944
On August 7, 1944 around midnight, a RAF Lancaster was shot down by the Nazis and crashed near La Frenaye, Seine Maritime.
Sgt J.B. Firth (S/N 1850441) was captured by the Germans. F/Lt E.H.E Hearn, Sgt W Johnson and F/Sgt Arthur Robson Meredith (RCAF) managed to escape.

F/Sgt R J Owen, (S/N: 1395854), F/Ltd, P S Palandri, (S/N: 55026) and Sgt A D Mellish, (S/N: 1662828) died during the crash and were buried in the little cemetery of La Frenaye. These three men died for our freedom and we should always remember them.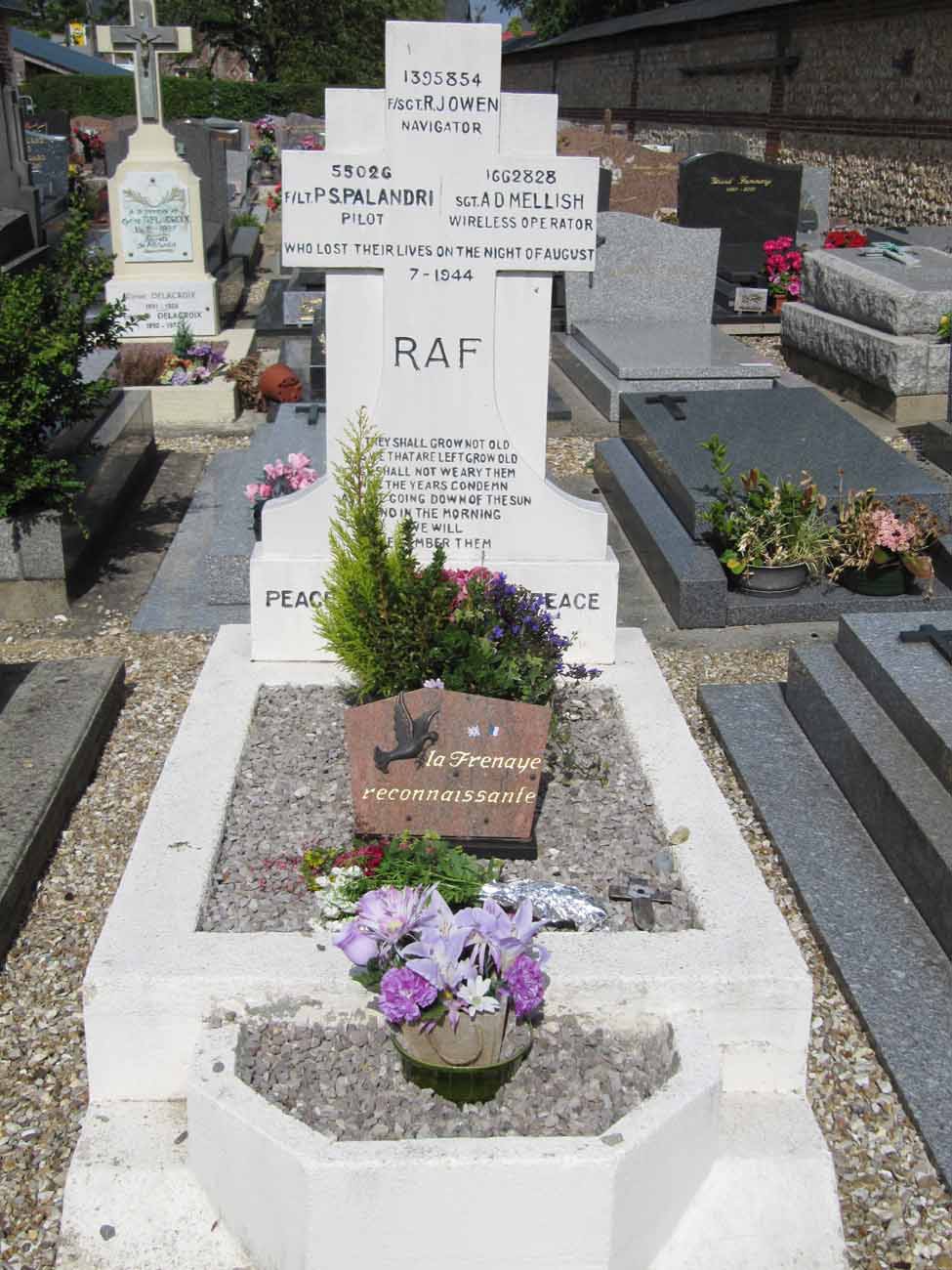 © armées.com
They shall grow not old

As we that are left grow old

age shall not weary them

nor the years condemn

at the going down of the sun

and in the morning we will

remember them
Ernie Manning also too part in the Secqueville raid and provided the following information:
"On the 8th, the villagers set about organising the burial of the three airmen trapped in the crash, but this had its obstacles because of the Battle of Normandy was still waging. However the local German Commander agreed that the burial could take place at 15.30 on the 10th. In the afternoon, the villagers of La Frenaye prepared to take the coffin of the airmen to the church. At this point, the German Commander arrived with twelve soldiers and declared that burial of the airmen would be a military one. The soldiers took the coffin and put it in the grave behind the church. They fired three salvoes and presented arms. There were about forty villagers present. The priest delivered the service, the grave was closed and covered with flowers. One Frenchman recalled that moment with poignancy "Les allemands étaient stupéfaits". "The Germans were astounded".
From that day onwards, on the 10th of August each year, the grave of Palandri, Owen and Mellish is honoured and decorated with flowers by the villagers of La Frenaye, young and old."
Additional information:
http://www.francecrashes39-45.net/page_fiche_av.php?id=1175
http://www.jwappleton.net/genealogy/histories/reginald-john-owen/
Escape report F/Lt E.H.E Hearn
Escape report F/Sgt Arthur Robson Meredith
Sgt J.B. Firth
http://www.xn--armes-dsa.com/lancaster-lafrenaye-en.htm